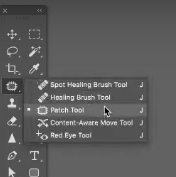 The patch tool in Photoshop is one of the fundamental elements that set this fantastic program apart from the rest. Being able to remove an object from an image is one of the primary benefits of using Photoshop. The patch tool is the easiest way to do that.
In combination with the Spot Healing Brush and the Healing Brush, the Patch Tool serves as the staple for removing unwanted objects from an image. Whether it's a random person in the background who happened to photobomb your picture or your team forgot to remove that distracting book on the desk, there are times when you need to get rid of things.
What Exactly is the Patch Tool Photoshop?
This tool is found in the toolbox and is one of the many brushes listed under the healing brush toolset. It's used to remove or repair more extensive areas of an image. Although it works in much the same way as the other healing tools, it will utilize sections of the image as defined by the user.
To put it in layman's terms, the patch tool in photoshop makes it easier to touch up larger sections since you don't have to brush it using the other touch up tools manually. You select an area and then move it all at once. (more…)