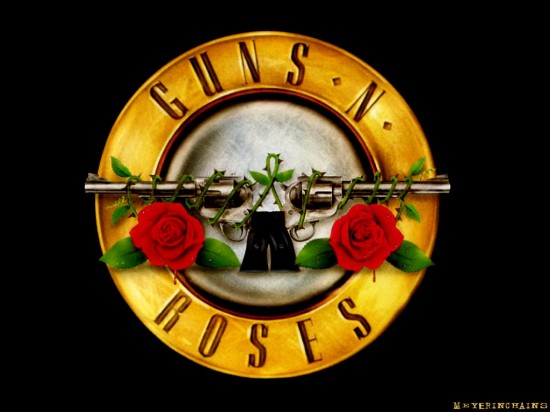 This is good article i think. These are some great music bands logos. All of these looks pretty great. If you are designer and want to make same of these logo, trust me, it's not easy. Making these logos are 1% inspiration and 99% perspiration. Also in this article you can read some info about bands. Source for all info are wikipedia.
1. Guns 'N' Roses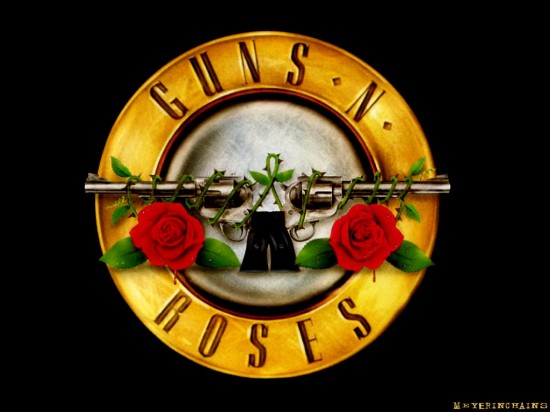 Guns N' Roses (sometimes abbreviated as GN'R or GNR) is an American hard rock band. The band formed in Hollywood, Los Angeles, California in 1985. The band, led by frontman and co-founder Axl Rose (born William Bruce Rose, Jr.), has gone through numerous line-up changes and controversies since its formation. The band has released six studio albums, three EPs and one live album during its career.
The band has sold more than 100 million albums worldwide,including over 46 million in the United States. The band's 1987 major label debut album Appetite for Destruction has sold in excess of 28 million copies worldwide and reached number one on the United States Billboard 200. In addition, the album charted three Top 10 hits on the Billboard Hot 100, including "Sweet Child o' Mine" which reached number one. The 1991 albums Use Your Illusion I and Use Your Illusion II debuted on the two highest spots on the Billboard 200 and have sold a combined 14 million copies in the United States alone and 35 million worldwide. After over a decade of work, the band released their follow-up album, Chinese Democracy, which sold 1.6 million copies by end of 2008.
2. Queen
Queen are a British rock band formed in London in 1970 and are one of the most commercially successful musical acts of all time. The group originally consisted of Freddie Mercury (lead vocals), Brian May (lead guitar, vocals), John Deacon (bass guitar), and Roger Taylor (drums, vocals). Queen's initial works were chiefly heavy metal orientated, however with time the band incorporated diverse and innovative styles in their music, exploring the likes of vaudeville, progressive rock, and even funk. Throughout the 1970s Queen disclosed the absence of synthesisers on their albums, yet their style continued to evolve, which reflected their experimental approach to music.
The group's roots can be traced back to the demise of the band Smile, of which May and Taylor were part. They were joined by a Farrokh Bulsara who changed the band's name to Queen, and his own to Freddie Mercury, and adopted the role of lead vocalist. Deacon was later recruited by the trio to complete the group. Queen enjoyed success in the UK during the early 1970s but it was the release of Sheer Heart Attack (1974) and A Night at the Opera (1975) that gained the band international success, both critically and commercially. The latter featured "Bohemian Rhapsody", which stayed at number one in the UK charts for nine weeks. In 1987, Mercury was diagnosed HIV positive and in 1991 died of bronchopneumonia, a complication of AIDS. Deacon's retirement followed in 1997. Since then, May and Taylor have infrequently performed together at special events and programmes. Between 2004 and 2009 the duo collaborated with Paul Rodgers under the name Queen + Paul Rodgers.
3. AC/DC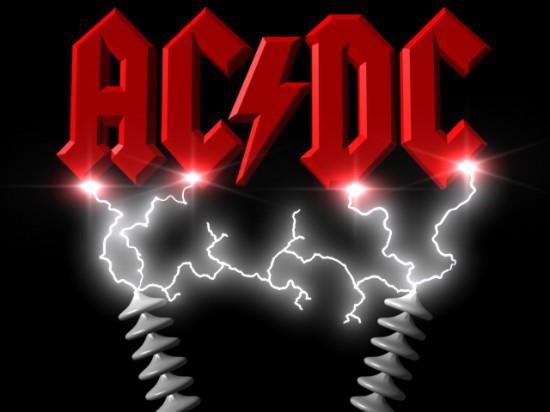 AC/DC are an Australian rock band formed in 1973 by brothers Malcolm and Angus Young. Although the band are commonly classified as hard rock and are considered a pioneer of heavy metal, they have always classified their music as rock and roll.
AC/DC underwent several line-up changes before releasing their first album, High Voltage, in 1975. Membership remained stable until bassist Mark Evans was replaced by Cliff Williams in 1977 for the album Powerage. Within months of recording the album Highway to Hell, lead singer and co-songwriter Bon Scott died on 19 February 1980, after a night of heavy alcohol consumption. The group briefly considered disbanding, but soon ex-Geordie singer Brian Johnson was selected to replace Scott. Later that year, the band released their highest selling album, Back in Black.
The band's next album, For Those About to Rock We Salute You, was their first album to reach number one in the United States. AC/DC declined in popularity soon after drummer Phil Rudd was fired in 1983 and was replaced by future Dio drummer Simon Wright, though the band resurged in the early 1990s with the release of The Razor's Edge. Phil Rudd returned in 1994 (after Chris Slade, whom was with the band from 1990–1994, was asked to leave in favour of him) and contributed to the band's 1995 album Ballbreaker. Stiff Upper Lip was released in 2000 and was well received by critics. Since then, the band has stayed the same with the 1980-1983 lineup. The band's most recent album, Black Ice, was released on 20 October 2008. It was their biggest hit on the charts since "For Those About to Rock, reaching #1 on all the charts eventually. AC/DC's newest studio album, AC/DC: Iron Man 2 is set to release on April 19, 2010.
4. ZZ Top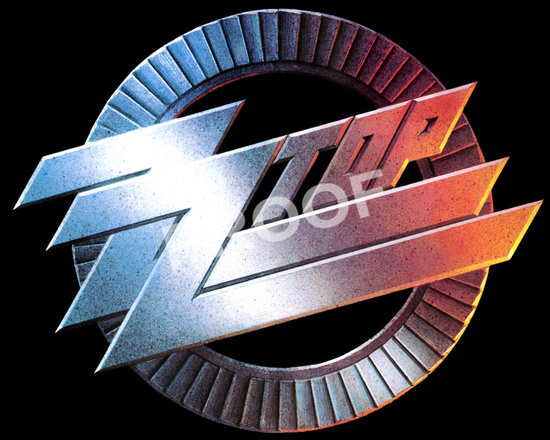 ZZ Top (pronounced /ˈziː ˈziː ˈtop/) is an American blues rock trio, formed in 1969 in Houston, Texas. Its members are Billy Gibbons (vocals and guitar), Joseph Dusty Hill (vocals, bass, and keyboards), and Frank Beard (drums and percussion). ZZ Top is ranked number 44 on VH1's "100 Greatest Artists of Hard Rock." The trio is one of the longest running rock bands to retain the same lineup, and until September 2006 had the same manager, Bill Ham.
ZZ Top was inducted by Keith Richards of the Rolling Stones into the Rock and Roll Hall of Fame during the annual ceremony on March 15, 2004. Cub Koda wrote, "As genuine roots musicians, they have few peers; Gibbons is one of America's finest blues guitarists working in the hard rock idiom … while Hill and Beard provide the ultimate rhythm section support."
ZZ Top almost always appear in public wearing sunglasses (a practice that predates, by a decade, their 1979 song "Cheap Sunglasses"). Gibbons and Hill wear similar black clothing (usually biker leathers) and black cowboy hats or baseball caps. Gibbons may wear black biker boots and neck chains with beer can openers. Although Gibbons and Hill wear chest-length beards, drummer Beard sports only a trimmed mustache.
In 1984, the Gillette Company reportedly offered Gibbons and Hill $1 million each to shave their beards for a television commercial. They allegedly declined, saying "We're too ugly without 'em."
ZZ Top is the only band with 30+ years active to have all the original band members alive and still playing together!
5. Van Halen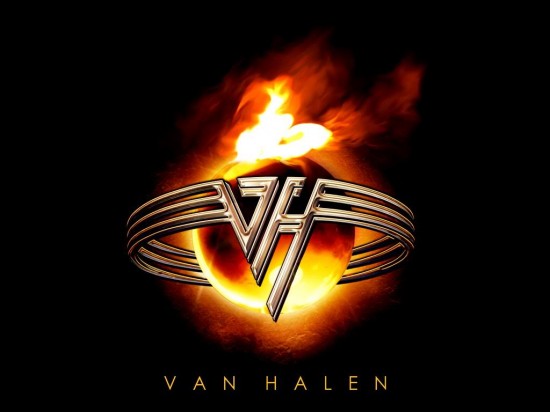 Van Halen is an American heavy metal/hard rock band formed in Pasadena, California in 1972. They have enjoyed large scale success since the release of their debut album Van Halen, (1978). As of 2007, Van Halen has sold 80 million albums worldwide, and have had the most number-one hits on the Billboard Mainstream Rock chart. During the 1980s they also had more Billboard Hot 100 hits than any other hard rock or heavy metal band. According to the Recording Industry Association of America, Van Halen is the 19th best-selling band/artist of all time with sales of over 56 million albums in the U.S. , and is one of five rock bands that have had two albums sell more than 10 million copies in the U.S. In 2008 they became one of the best paid live acts in the world, over twenty years after performing the same feat in the early eighties in regards to their huge payout for headlining the US festival. In 1999, the RIAA certified Van Halen diamond, for ten million U.S. sales. Van Halen were one of the forerunners to the glam metal bands of the 1980s.
6. Aerosmith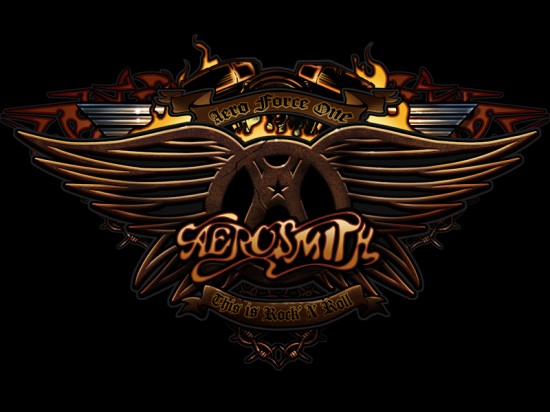 Aerosmith is an American hard rock band, sometimes referred to as "The Bad Boys from Boston" and "America's Greatest Rock and Roll Band". Their style, which is rooted in blues-based hard rock, has come to also incorporate elements of pop, heavy metal, and rhythm and blues, and has inspired many subsequent rock artists. The band was formed in Boston, Massachusetts in 1970. Guitarist Joe Perry and bassist Tom Hamilton, originally in a band together called the Jam Band, met up with singer Steven Tyler, drummer Joey Kramer, and guitarist Ray Tabano, and formed Aerosmith. In 1971, Tabano was replaced by Brad Whitford, and the band began developing a following in Boston.
7. Bon Jovi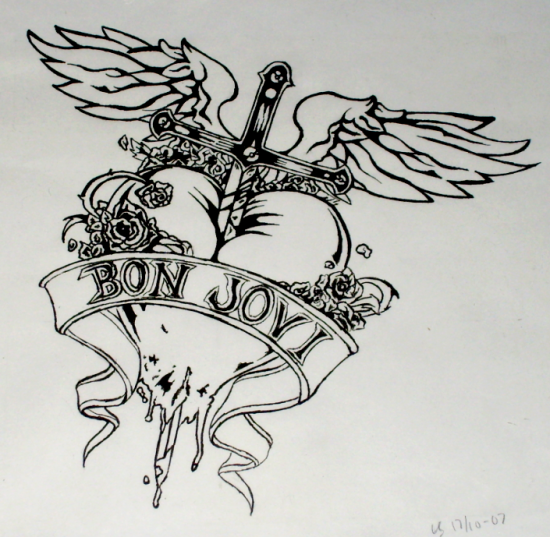 Bon Jovi is an American hard rock band from Sayreville, New Jersey. Formed in 1983, Bon Jovi consists of lead singer and namesake Jon Bon Jovi, guitarist Richie Sambora, keyboardist David Bryan, drummer Tico Torres as well as current bassist Hugh McDonald. The band's line-up has remained mostly static during their 26-year history, the only exception being the departure of Alec John Such in 1994, who was unofficially replaced by Hugh McDonald. The band have become known for writing several rock anthems, and achieved widespread recognition with their third album Slippery When Wet, released in 1986. Bon Jovi are well-known for songs including "Livin' on a Prayer", which has become their signature song, as well as "You Give Love a Bad Name", "Wanted Dead or Alive", "Bad Medicine", "Keep the Faith", "Bed of Roses", "Always", "It's My Life" and "Have a Nice Day". Their latest hit single is "We Weren't Born to Follow."
8. Judas Priest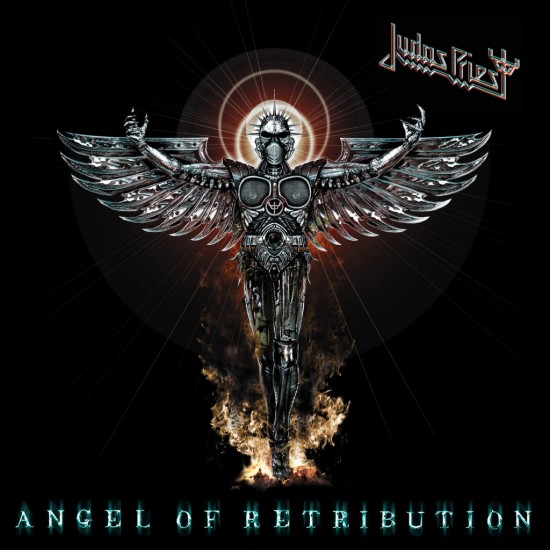 Judas Priest are a Grammy Award winning English heavy metal band from Birmingham, formed in 1969. Judas Priest's core line-up consists of vocalist Rob Halford, guitarists Glenn Tipton, K.K. Downing, and bassist Ian Hill. The band has gone through several drummers over the years, though Scott Travis has held the position since 1989. They have been cited as an influence on many heavy metal musicians and bands. Their popularity and status as one of the definitive heavy metal bands has earned them the nickname "Metal Gods" from their song of the same name. They have sold over 35 million albums worldwide.
9. Disturbed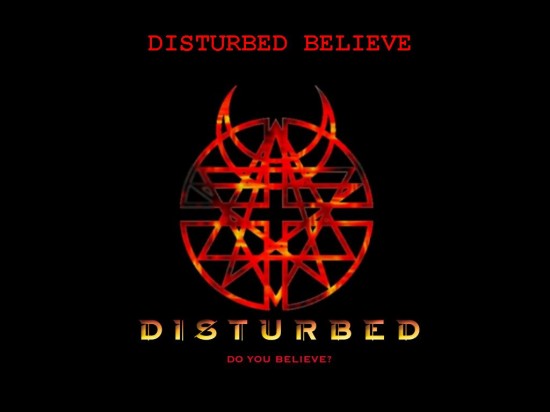 Disturbed is a heavy metal band from Chicago, Illinois, formed in 1996 when musicians Dan Donegan, Steve "Fuzz" Kmak, and Mike Wengren hired David Draiman as their singer. Since the band's formation, they have sold over 11 million albums worldwide, making them one of the largest grossing rock bands in recent years. The band has released three consecutive studio albums that have debuted at number-one on the Billboard 200.
10. Slayer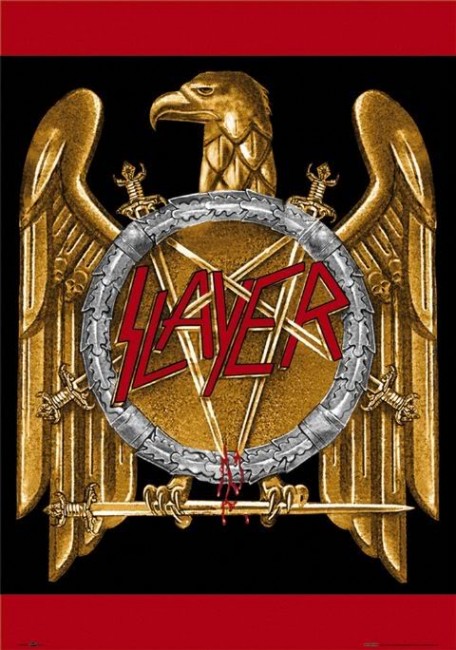 Slayer is an American thrash metal band from Huntington Park, California, formed in 1981. The band was founded by guitarists Jeff Hanneman and Kerry King. Slayer rose to fame with their 1986 release, Reign in Blood, which has been called "the heaviest album of all time" by Kerrang!. The band is credited as one of the "Big Four" of thrash metal, along with Metallica, Anthrax and Megadeth.
Slayer's musical traits involve fast tremolo picking, atonal guitar solos, double bass drumming, and shouting vocals. The band's lyrics and album art, which cover topics such as serial killers, Satanism, religion and warfare have generated album bans, delays, lawsuits and strong criticism from religious groups and the public.