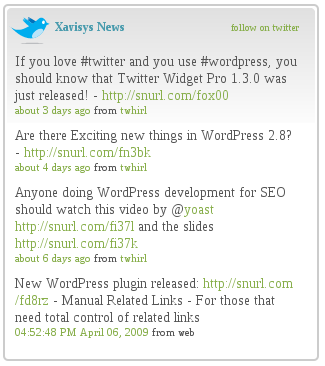 Twitter is a real-time information network powered by people all around the world that lets you share and discover what's happening now.Twitter is great for your wordpress blog.It will improve your blog look and it can increase visits of your blog. As you know Twitter keeps you informed with what matters most to you today and helps you discover what might matter to you most tomorrow.So this list of plugins are really helpful.It's easy to integrate with your wordpress blog and you can done it in a few easy steps.
1. Twitter Widget Pro
A widget that properly handles twitter feeds, including @username, #hashtag, and link parsing. It supports displaying profiles images, and even lets you control whether to display the time and date of a tweet or how log ago it happened (about 5 hours ago, etc). Requires PHP5.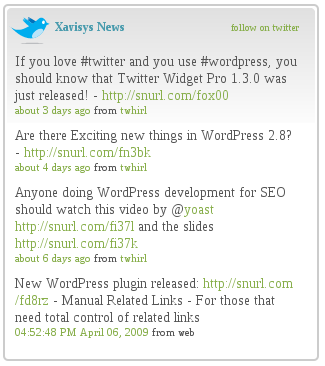 Download: Twitter Widget Pro
Plugin Homepage: Twitter Widget Pro
2. Twitter Feed
Admin Control Panel
The control functions such as connecting to a Twitter account and storing information on the tweets/blogs, can be accessed through the "Twitter Control" GUI in the WordPress admin panel.
Any changes in the currently active Twitter account tweets can be immediately updated by clicking on the "Update Blogs" button.
Order, Prioritisation and PM Filtering
The application will display the latest tweet from all of the active accounts and then displays those latest tweets in date order. So the newest tweet across all of the accounts will always be shown first. It is also possible to switch between allowing/disallowing PM (Private Message) tweets to be included in the display.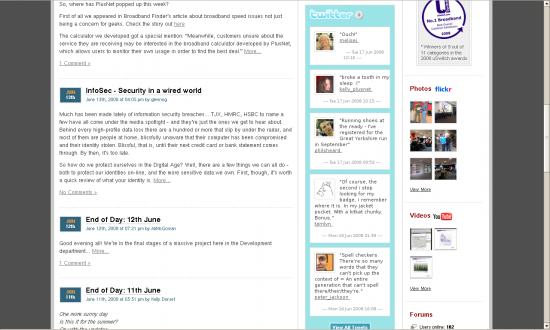 Download: Twitter Feed
Plugin Homepage: Twitter Feed
3. WP to Twitter
The WP-to-Twitter plugin posts a Twitter status update from your WordPress blog using either the Cli.gs or Bit.ly URL shortening services to provide a link back to your post from Twitter.
For both services you can provide your information to maintain a list of your shortened URLs with your URL shortening service for statistics and your own records.
The plugin can send a default message for updating or editing posts or pages, but also allows you to write a custom Tweet for your post which says whatever you want. By default, the shortened URL from Cli.gs is appended to the end of your message, so you should keep that in mind when writing your custom Tweet.

Download: WP to Twitter
Plugin Homepage: WP to Twitter
4. Latest Twitter Sidebar Widget
There are a handful of plugins and widgets available that integrate with Twitter, but most of them require your web server to be running PHP5. This widget (up to version 0.100210) will work with PHP4 and PHP5.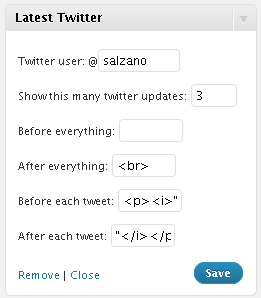 Download: Latest Twitter Sidebar Widget
Plugin Homepage: Latest Twitter Sidebar Widget
5. Twitter by V.J.Catkick
Twitter Widget displays your tweets on your sidebar. There's lots of switches to turn on/off what you want to display.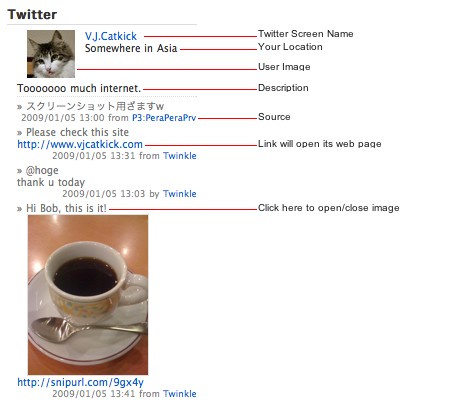 Download:
Twitter by V.J.Catkick
Plugin Homepage: Twitter by V.J.Catkick
6. YOURLS: WordPress to Twitter
YOURLS is a free URL shortener service you can run on your webhost to have your own personal TinyURL.
This plugin is a bridge between YOURLS, Twitter and your blog: when you'll submit a new post or page, your blog will tap into YOURLS to generate a short URL for it, and will then tweet it.
Note that, for maximum fun, this plugin also supports a few other public URL shortener services: tr.im, is.gd, tinyURL and bit.ly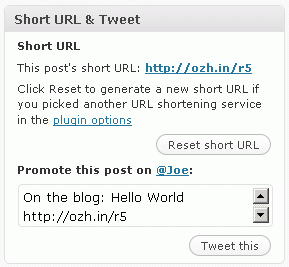 Download: YOURLS: WordPress to Twitter
Plugin Homepage: YOURLS: WordPress to Twitter
7. WordPress Dashboard Twitter
Twitter is everywhere. So why not in your WordPress Dashboard? WordPress Dashboard Twitter is a Dashboard Widget that displays Twitter @replies, direct messages, sent messages and favorites the convenient way within your WordPress Dashboard. WordPress Dashboard Twitter turns your Dashboard into a Twitter client.
The Dashboard widget lets you update your status, send direct messages, follow your mentions, list direct messages, sent messages and your favorites in a simple tab interface. All in a single widget. No seperate admin page needed. All the Twitter stuff you need right where you need it.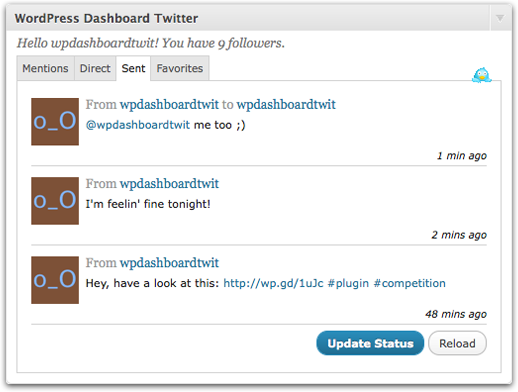 Download: WordPress Dashboard Twitter
Plugin Homepage: WordPress Dashboard Twitter
8. WG Twitter Widget
wg-twitter-widget is THE widget to show twitter status in wordpress sidebar. Developed starting from the existing widget of Sarah Isaacson, * using the example widget of Justin Tadlock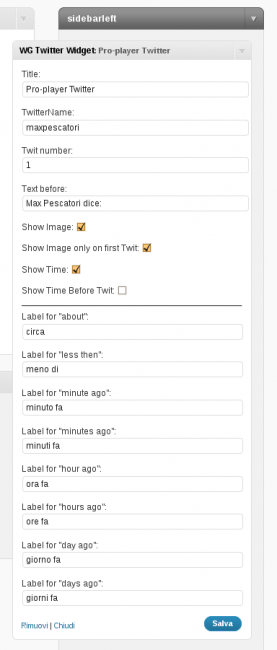 Download: WG Twitter Widget
Plugin Homepage: WG Twitter Widget
9. Twitter Search Widget
This plugin adds a Twitter Search widget.
Install this plugin in the usual way, by downloading and unzipping the folder into your plugins directory (/wp-content/plugins).
The plugin then needs to be activated before it can be used.
To use, simply drag the 'Twitter Search' widget into a sidebar. To use the widget, your theme must be widget-enabled.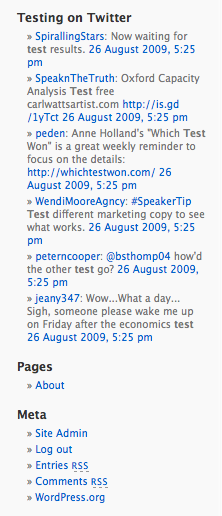 Download: Twitter Search Widget
Plugin Homepage: Twitter Search Widget

10. WP Twitter Users
Allows authors to showcase single Twitter users or create formatted lists of users shown in in badges using a simple shortcode.
You can choose from 10 profile templates or create your own custom template and put it in your theme's /wptu/ subfolder.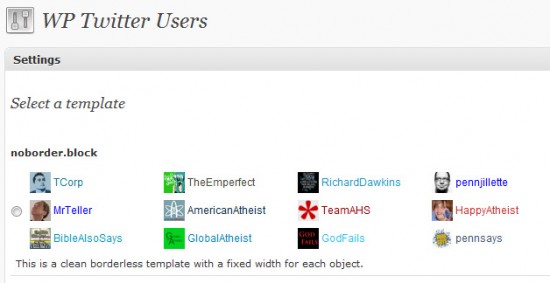 Download: WP Twitter Users
Plugin Homepage: WP Twitter Users