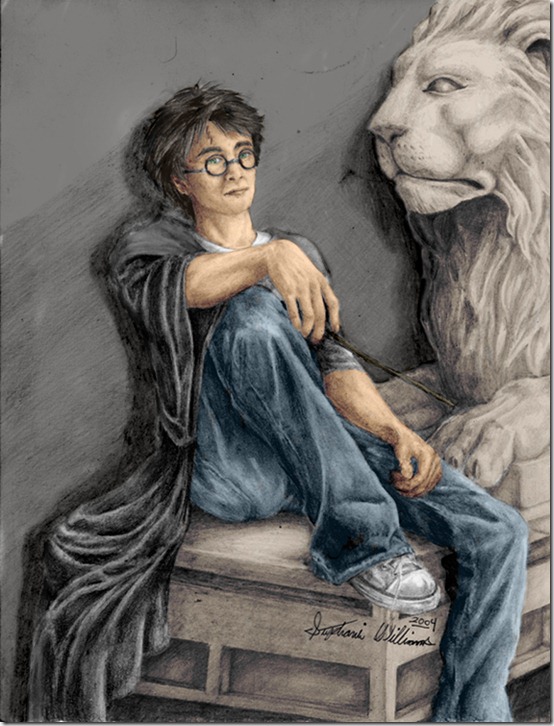 The Harry Potter film series is based on the seven Harry Potter novels by British author J. K. Rowling and, when complete, will consist of eight fantasy-adventure films starring Daniel Radcliffe, Rupert Grint and Emma Watson.
Warner Bros. is currently producing its adaptation of the seventh and final novel, Harry Potter and the Deathly Hallows which will be split into two parts: Harry Potter and the Deathly Hallows: Part I is due out on 19 November 2010 and Harry Potter and the Deathly Hallows: Part II is due out on 15 July 2011. In an interview, producer David Heyman has stated that Harry Potter and the Deathly Hallows is being treated as one film, but released as two parts. Both parts will be released in 3D and 2D on their individual release dates.
The Harry Potter film franchise is the highest grossing film series of all time when not adjusted for inflation, with over $5.4 billion in worldwide receipts. As of April 2010 the series consists of six motion pictures, all of which (unadjusted for inflation) are on the all time list of 30 highest-grossing films worldwide, with the first, fifth and sixth films among the top ten. The latest installment, Harry Potter and the Half-Blood Prince, was released in cinemas worldwide on 15 July 2009.
I Think there is none on this planet who didn't watched Harry Potter Or didn't hear for Harry Potter. Harry Potter is one of the most famous movies heroes in the world.He was my inspiration for new article,and i think you will like this article.All these pictures are not real,they are photoshoped or drew and painted.Also source for this pictures is DeviantART, so you can find more pictures related to Harry Potter there.Enjoy