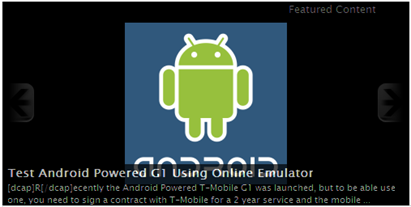 These days many people have some wordpress blog. Every of them have different design,but most of them have something common. It's wordpress slide show plugins for featured articles on homepage. With slide show you can easily show to the world what you are really trying to portray. Slide show has ...
These days many people have some wordpress blog. Every of them have different design,but most of them have something common. It's wordpress slide show plugins for featured articles on homepage. With slide show you can easily show to the world what you are really trying to portray. Slide show has great effect towards the visitor.Here i am going to share some of my favorite wordpress slide show plugins.So let's start…
1. Featured Content Gallery Plugin v2.0 (FCS)
Featured Content Gallery creates an automated, fully customizable rotating image gallery anywhere within your WordPress site. Choose your images and display categories, pages or posts with custom overlay text and a thumbnail carousel. Custom options include gallery size, color, style and more.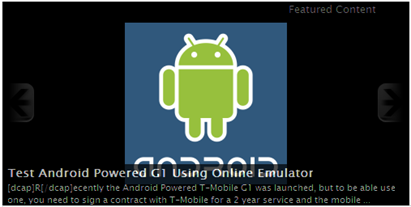 Download: Featured Content Gallery V 2.0
Plugin Homepage: Featured Content Gallery V 2.0
2. Featured Category Slideshow / FCS
This plugin is also based on Smooth Gallery similar to Featured Content Gallery by WPElements.The only difference it that this pulgin always shows the 4 newest posts in the slideshow. Older posts will just be automatically be removed out of the slideshow without being deleted from the blog.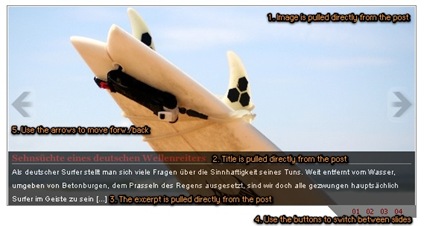 Download: Featured Category Slideshow / FCS
Plugin Homepage: Featured Category Slideshow / FCS
3. Featured Posts Slideshow
Featured Posts Slideshow shows as many post's images as you want. It's a very nice and powerfull Javascript Slideshow. It displays a certain image for every Post of a category that you have defined. You can slide through your Slideshow with the help of nice navigation buttons. The images are directly linked to the specific WordPress post. You have a powerfull Administration Area to adjust the Category, the number of Posts, the width and height, and many colours for the Slideshow!

Download: Featured Posts Slideshow
Plugin Homepage: Featured Posts Slideshow
4. FeatPlug
Featplug is a standalone script / wordpress plugin that can mine your WordPress posts or any other data and look for images suiting a given dimension and generates 'featured' section for your site using the found items.
The featured section, includes a resized image (banner) with the label, description and link of the related post or data.
Featplug is a architectural plugin with input layers and output templates.
Input Layer -> Featplug -> Output Template
Currently it supports WordPress and standalone as input layers. But it's very easy to integrate it to any other blog / cms / forum software or even in your static site.

Download: FeatPlug
Plugin Homepage: FeatPlug
5. WP Featured Content Slider
Featured Content Slider provides a powerfull and nice javascript Slideshow/Slider for WordPress. It can be integrated anywhere on your Blog/Website. This Featured Content Slider shows your chosen Blog Posts from a specific Category. It also Display your images next to the excerpt of your Blog Post. This is the perfect solution for everybody who wants a nice flewing Slideshow under their navigation bar.

Download: WP Featured Content Slider
Plugin Homepage: WP Featured Content Slider
6. Slideshow Gallery
Feature content in a JavaScript powered slideshow gallery showcase on your WordPress website.
The slideshow is flexible and all aspects can easily be configured.
Embedding or hardcoding the slideshow gallery is a breeze. To embed into a post/page, simply insert [slideshow] into its content with an optional post_id parameter to display the gallery images uploaded to that post/page. To hardcode into any PHP file of your WordPress theme, simply use slideshow($output = true, $post_id = null); }; ?>.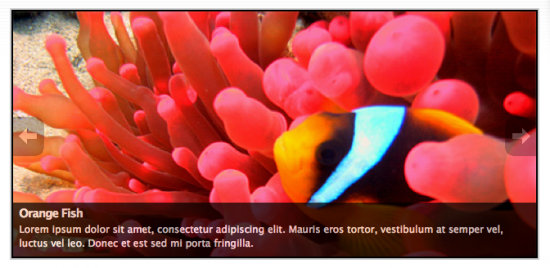 Download: Slideshow Gallery
Plugin Homepage: Slideshow Gallery
7. WP Content Slideshow

WP Content Slideshow shows up to 5 Posts in a very nice and powerfull Javascript Slideshow. On the left side of the Slideshow it displays a Image for every Post. On the right side, there are all the Titles (and a small description under the Title) of the Posts. The Slideshow highlights the active Post and repeats automatically after getting to the 5th Post. You have a powerfull Administration Area to adjust the Category, the number of Posts, the width and height, and many colours for the Slideshow!

Download: WP Content Slideshow
Plugin Homepage: WP Content Slideshow
8. Featurific For WordPress
An effortless interface to Featurific Free, the featured story slideshow.
Unlike traditional slideshows, Featurific imitates the behavior seen on the home pages of sites like time.com and msn.com, displaying summaries of featured articles on the site. The idea is to increase conversion and user satisfaction by funneling your readers to your strongest, most engaging content. If you believe that big budget companies like Time, MSN, and Walmart might be on to something, then give this plugin a shot.
Installation is automatic and easy, while advanced users can customize every element of the Flash slideshow presentation.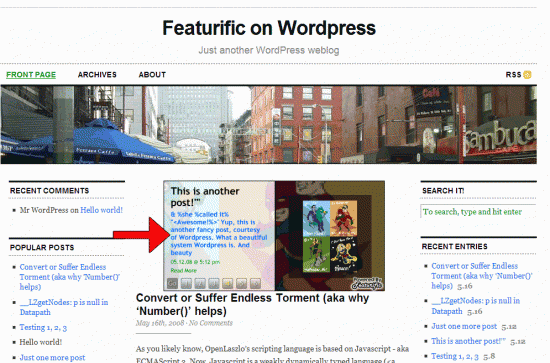 Download: Featurific For WordPress
Plugin Homepage: Featurific For WordPress
9. d13slideshow
D13Slideshow is a plugin that will create an animated promo slideshow as part of your WordPress blog. You can use it to promote any pages or posts in your site and it is fully customisable through the admin pages of your blog. Unlike some other slideshow components, D13Slideshow makes use of the script.aculo.us and Prototype JavaScript frameworks.
Once added, your slideshow will animate through each of your chosen features providing an image, an extract and a link. Once all featured stories have been shown, the slideshow will pause and provide 'next' and 'back' buttons allowing visitors to cycle through them.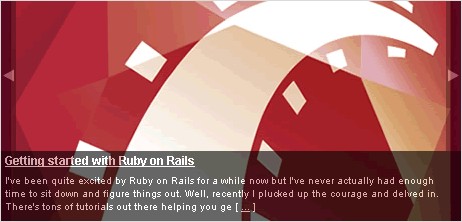 Download: d13slideshow
Plugin Homepage: d13slideshow
10. Smooth Slider
Smooth Slider is a WordPress and WordPress MU Plugin for creating a dynamic slideshow/s for featured posts on a blog. The slideshow created by Smooth Slider are JavaScript and Text based, that is why bloggers will get full benefit of Search Engine Optimization as the texts are readable by Search Engines. You can choose some of your posts as featured posts and show them into a slideshow on your blog home page (i.e. Index) as well as in Sidebar.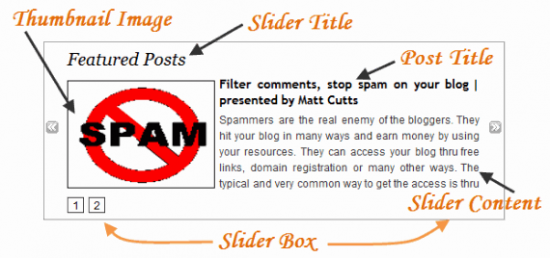 Download: Smooth Slider
Plugin Homepage: Smooth Slider
11. Front Slider

You are looking for a fancy Slideshow to improve your Blog's/Website's Design? This is perfect for you! Front Slider includes as many Featured Posts as you like. You can define a Image for every Post. It shows an excerpt, date, time and number of comments for every Post. The text and images are sliding smoothly – Front Slider generates nice thumbnails through which can be slided and navigated. By clicking on the big image one gets directly to the featured Post.

Download: Front Slider
Plugin Homepage: Front Slider
12. NextGEN Gallery
NextGEN Gallery is a full integrated Image Gallery plugin for WordPress with a Flash slideshow option. Before I start writing the plugin I study all photo and picture plugins for WordPress, I figure out that some of them are really good and well designed, but I missed a simple and easy administration back end to handle multiple photos, galleries and albums.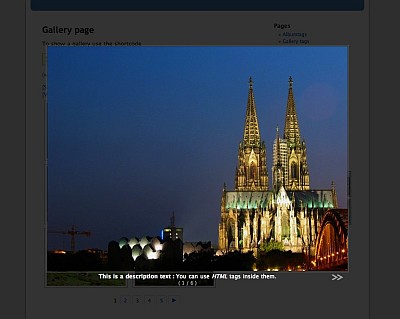 Download: NextGEN Gallery
Plugin Homepage: NextGEN Gallery
13. WordPress SmoothGallery Plugin
This plugin embeds JonDesign's SmoothGallery into your posts and pages.
It's this simple:
upload some pictures to a post/page
use the shortcode "smoothgallery"
add a custom field named "smoothgallery" with some options
watch your gallery 😉
There're a lot more possibilities with this plugin. Please have a more detailed look at it and don't hesitate to leave a comment if you'd like to suggest a feature, need help with the plugin or just want to say how cool this is 😉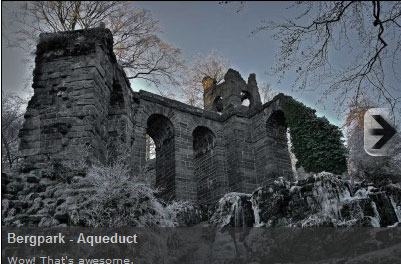 Download: WordPress SmoothGallery Plugin
Plugin Homepage: WordPress SmoothGallery Plugin
14. Global Flash Galleries
Global Flash Gallery plugin can help you to create fast and perfectly wonderful and unique galleries of great albums, photos, cards and other images.
Global Flash Galleries plugin is easy and convenient for use. It's captivating and beautiful to execute in practice. Ready-made harmonic color layouts are offered in this plug-in. It is possible to preview a gallery created from several albums in a convenient mode of slide show (full size) or in thumbnails (streaming tape). It's easy with Global Flash Galleries to create different galleries from numerous grouped albums even if you don't have much experience in it. There are many various and apprehensible settings and styles with which you can easily change the size of images preserving its original proportion and put the required tags. The plug-in navigation is made at the highest levels and has a broad range of demonstration effects which are easy and plain to comprehend. The excellent functional capabilities of the plug-in will help to create a really peculiar and distinctive collection of galleries.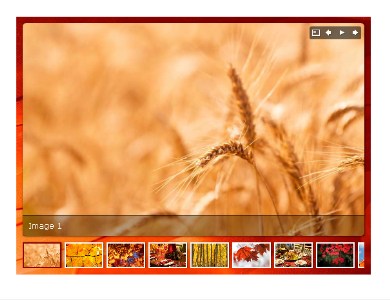 Download: Global Flash Galleries
Plugin Homepage: Global Flash Galleries
15. SlidePress
SlideShowPro is a Flash-based slideshow application for presenting your photos and videos online. SlideShowPro features over 100 customizable parameters to control color, layout, size, and behavior for an endless array of configuration options when publishing your digital content. Built to meet the demands of professional photographers, as well as web developers looking for a fast, simple utility, SlideShowPro creates slideshows without coding any ActionScript or modifying Flash files.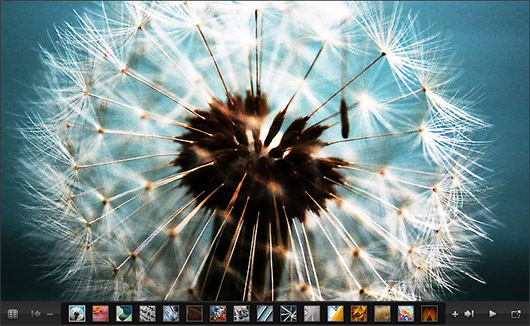 Download: SlidePress
Plugin Homepage: SlidePress
———————————————————————————————–
We are the pioneers in providing testking and ccna tutorials with 100% exam pass guarantee. Download our latest a+ certification questions to pass real exam on time.
116 Responses to "15 wordpress slide show plugins for featured articles on home page"