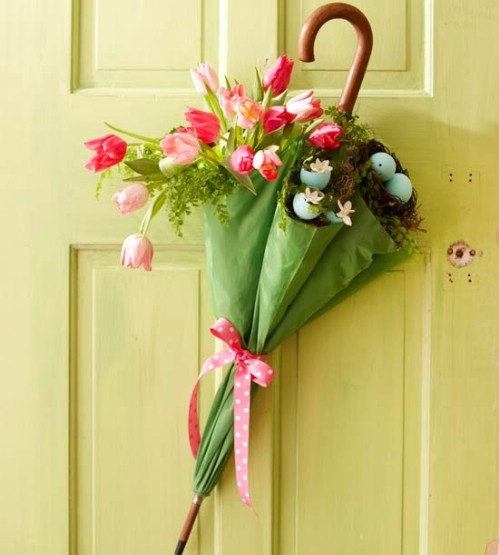 by Dane O'LearySpring is the time of year where our planet awakens from a long winter hibernation and returns to its former glory. At every turn you can hear birds chirping, see greenery sprouting, and the promise of rain means relief from snow and cold. It's the time of year ...
by Dane O'Leary
Spring is the time of year where our planet awakens from a long winter hibernation and returns to its former glory. At every turn you can hear birds chirping, see greenery sprouting, and the promise of rain means relief from snow and cold. It's the time of year when we trade winter coats for jackets and umbrellas as the holidays become a distant memory.
Easter is the most important holidays of the spring and, for some, of the entire year. However, you don't have to be religious to enjoy a variety of do-it-yourself decorating projects to prepare your home for Easter and the spring season. Here are some creative, fun, and simple decor projects to get your home ready for Easter.
Simple Umbrella Door Decoration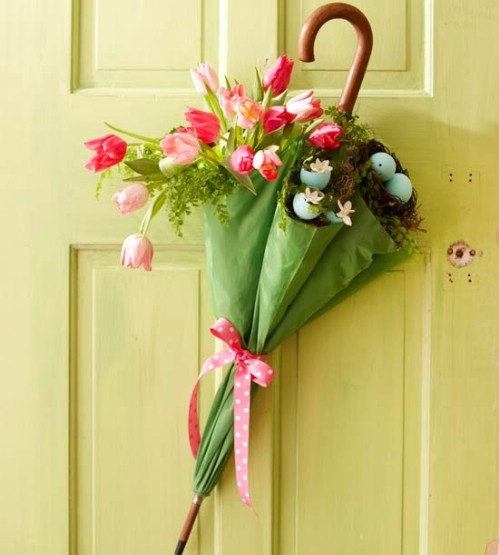 Via Better Homes & Gardens
Wreaths are so last season. Literally. Replace that holiday wreath with something festive for Easter like this door decoration. You've probably seen floppy hats holding flowers on doors, but try using an umbrella instead. If you can find an umbrella that's inexpensive and old-fashioned — perhaps at a yard sale or thrift store — that's even better.
Tie a ribbon about halfway up the closed umbrella, then hang it upside down on your front door and put flowers, real or artificial, in it like a vase. Remember if you use real flowers you'll probably need to replace them every couple days as they start to wilt. Another tip is to fashion a nest out of inexpensive vine you'll find in any craft store and put it among the flowers, maybe with little artificial bird eggs in it. This simple decor project is quick, easy, and your guests will adore it.
Elegant Easter Arrangements
Easter coincides with the first wave of floral growth for many of us. If you have lovely spring flowers like tulips or violets around your home, consider them free decor; if you don't, these flowers can typically be purchased from florists and even grocery stores for very little.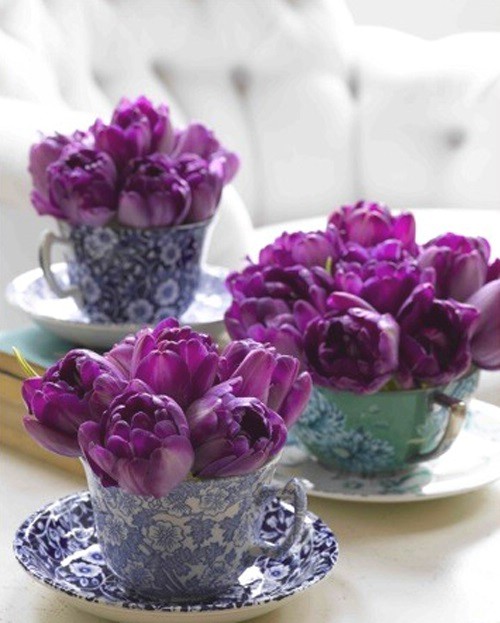 Via Slim Paley
Spring flowers with longer stems can go in a vase and sit on a dining room table, on your kitchen counter, or a table in your living room. Violets and other short-stemmed flowers can be placed into teacups and put on your mantle for another festive Easter decoration. This is simple, costs little to nothing, and these early spring flowers will make your home smell spring fresh and lovely.
Do-It-Yourself Easter Egg Topiary
These do-it-yourself topiaries have been all the rage on Pinterest and arts-and-crafts blogs as decor for weddings and other formal events. They're a favorite because they're elegant, yet inexpensive and easy to make.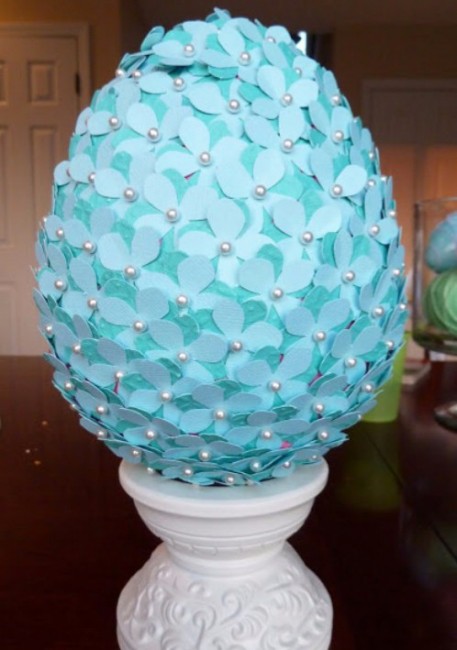 Via Simply Designing
To make an Easter egg topiary, all you need is a foam egg, decorative pearl pins, scrapbook or decorative craft paper, and a topiary pot. The most time-consuming part is cutting out all the flowers, but most craft stores sell punches that aren't very expensive and will save you time and from wrist stiffness. These elegant Easter egg topiaries can be made in essentially any size and color and look like very expensive. They're great as centerpieces or simply placed throughout the house.
Crepe Paper Carrots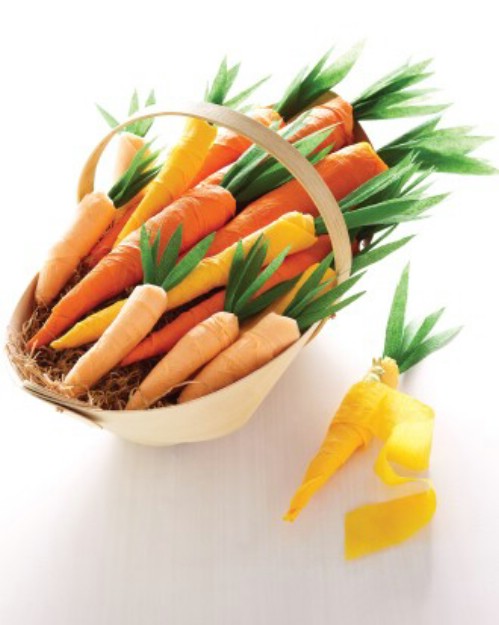 By Kate Mathis via Martha Stewart
Like leaving cookies for Santa, you can leave carrots for the Easter Bunny by making them out of crepe paper streamers that you can buy from craft and party supply stores for next to nothing. You can make carrots in shades of orange and yellow, in purple for those beautiful heirloom carrots, or go crazy and make carrots in a variety of colors to match your Easter eggs. Consider wrapping treats in them for kids as a creative alternative to Easter eggs and a twist on crepe-paper surprise balls. Put your carrots in baskets throughout your home or even string them lengthwise to make a festive carrot garland.
Potted Easter Egg Trees
You've probably seen those potted Easter trees sold in department and discount stores at the start of the spring season; they're small, wiry trees that are usually white, have little or no leaves, and cost just a couple dollars each. This project is easy, fun, and a twist on the Christmas tree that will get your home in the Easter spirit.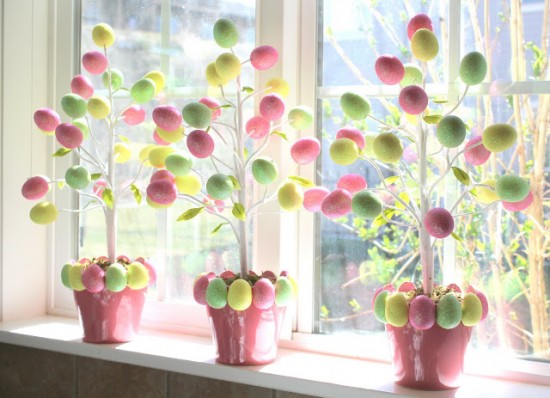 Via Craft Sisters
Find one — or two or three — of those leafless little Easter trees and a bag or two of plastic Easter eggs. If you aren't particularly fond of the color of the eggs or want to create your own color scheme, you can buy spray paint in any colors you choose to paint the eggs. It's a good idea to buy a can of spray-glitter too, just to give your eggs that extra sparkle. Open the eggs and glue a row of egg-halves around the outer edge of the pot for a finishing touch, then place your Easter egg trees throughout your home. They're great to put on each side of a main entryway, as a dining table centerpiece, or in a window sill to catch sunlight.
For more home decor ideas and inspiration check out Modernize!