In this post, I have listed down 5 of the most fantastic alternatives to Photoshop that you can use with relative ease and freedom
Adobe's Photoshop was and still is the undisputed king of image editing software everywhere. It's so omnipresent that it's practically a verb. 'Photoshopping' is equivalent of 'image editing' to people (unless they're graphic designers who know the finer distinctions).
Photoshop is awesome, but that's not to say it's the only image editing tool on the planet. And now, thanks to 'Creative Cloud' and subsequently douche move/ vendor lock-in by Adobe, more people are interested in other options.
In this post, I have listed down 5 of the most fantastic alternatives to Photoshop that you can use with relative ease and freedom:
Platform: Windows
Price: $63.99 (X8), and $79.99 (X8 Ultimate). Extensible via plugins.


Corel's Draw, Painter, etc. are renowned for their brilliant effects and ease of use among graphic designer and DTP (Desktop Publishing) agencies. PaintShop Pro family is brought to you by the same name.
This toolset works quite as flawlessly as Photoshop and goes beyond image editing and graphic making tools. The entire suite is packed with features for basic to pro image editing (color correction, filters, retouch, etc.) and there are a slew of super cool graphic tools complete with lifelike brush effect and sleek vector options.
The latest version of PaintShop Pro family (X8) offer an even more highly enhanced set of tools including precise selections, layer enhancements, quicker brush strokes, and Batch modes. For the more industrious sorts who want to extend its features further, there is X8 Ultimate. On top of that, there are 3 premium extensions (plugins) for filters, Auto FX effects, and more.
Platform: Device agnostic (Online tool)
Price: Free basic, $4/month for Paint Pro. iPad App available.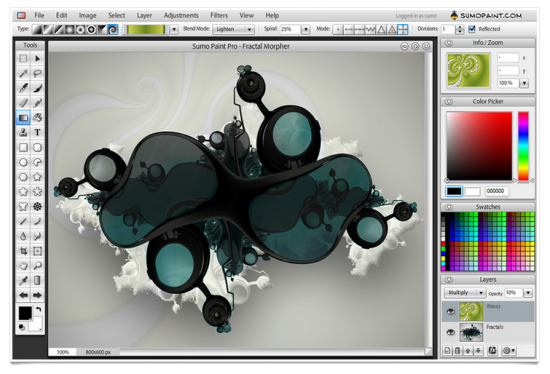 Sumopaint needs nothing but a browser and internet connectivity. This feather light and highly efficient tool poses tiniest possible loss to your bandwidth (for other net surfing), and it works just as well as you'd expect a desktop tool to work.
There are the basic model MS Paint features combined with the tray of tools you are used to seeing in Photoshop. You get the pencils, brushes, smudges and vectors, a Symmetry tool for quick designing, shapes and text, gradients and blur, and the layer feature and more. The files are saved on your hard disk or cloud as you choose.
Platform: Linux, Windows, Mac OS X, Sun OpenSolaris, FreeBSD
Price: Free

GIMP is the father to all modern, hip images editing software that charge a premium. And unlike them all, GIMP is free (open source).
GNU Image Manipulation Program, aka GIMP, is not for those who are still wet behind the ears. This super charged, brilliantly efficient image editor has an old school interface (customizable) comprised of modules that can be pushed around to make it a comfortable workspace for yourself.
Basic image editing and enhancement, cloning and selecting, paint tools (shapes, gradients, eraser, brushes, etc.) along with such smart features like barrel distortion and perspective transformation for the professionals.
It's effortless, highly compatible (with all file formats and OS), and free.
Platform: iOS and Android
Price: Free

Pixlr is free (completely!) and that may be why it's, quite frankly, a pretty damn popular photo editor. This little beast packs over 500 effects, a variety of overlays and borders, and does more than simple resizing, cropping, and retouching than you'd expect from a photo editor.
Pixlr's interface is also something worth talking about: Unlike professional (and/ or premium) image editors, Pixlr's interface is user friendly for all; novice or expert. Red eye correction and teeth whitening features wrapped in an easy to use and understand interface make this app highly usable.
Platform: Windows
Price: Free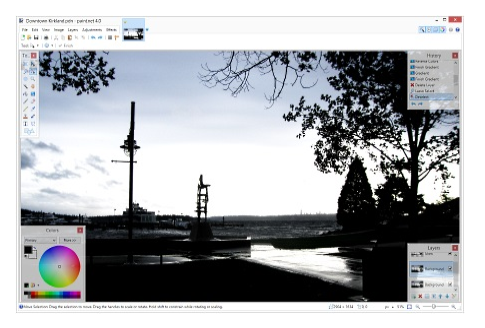 The origin story for this little 'project' will almost bring Facebook and Zuckerberg to mind. Paint.net began as a sponsored (by Microsoft) undergraduate program which was later shipped with different versions of Windows out of the box. And yet, despite being almost like the cooler elder brother to MS Paint every creative is familiar with, Paint.net is way more than that.
Paint.net supports layers and contains a whole wide array of special effects, perspective distortion, blending tools, pixel manipulation, selection tools, and so many more features than your average Microsoft Paint. While the shift is definitely towards image editing over artistic graphic creation, the tools and features are highly specific and easy to use.
Endnote
There are many more alternatives to Photoshop than you'd probably imagined, and many of them are even free, so no annoying 'subscribe now' or 'renew subscription' messages, no lock-ins, and absolutely none of that vague feeling of quiet confusion. The 5 alternatives to Photoshop listed above are the ones that are most trusted and well used.
Try them for yourself.