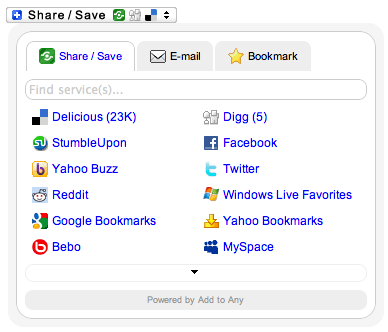 It's hard to have too much readers on your blog without some share buttons.These buttons helps you to make your article popular on most social media websites.When your articles get popular on social media websites, your article will get a log of visitors.These are simply plugins,you don't need previous knowledge,it's ...
It's hard to have too much readers on your blog without some share buttons.These buttons helps you to make your article popular on most social media websites.When your articles get popular on social media websites, your article will get a log of visitors.These are simply plugins,you don't need previous knowledge,it's very easy to install and run this.
To install a plugin that is not in the plugin browser, the following are the general directions to follow. Be sure and follow the specific instructions provided by the Plugin author. Remember: BACKUP – just in case.
1.Read through the "readme" file thoroughly that usually accompanies a plugin, or the website article from where you found the plugin. It is often helpful to print out the instructions so you can check off the installation steps as you complete them.
2.Upload the plugin to the wp-content/plugins folder in your WordPress directory online.
3.Make any changes to templates or files as required by the Plugin instructions including adding Plugin template tags.
4.Activate the Plugin:
1.Access the Plugin Panel in your Administration Panels
2.Scroll down through the list of Plugins to find the newly installed Plugin (if not visible, start from the beginning to check to see if you followed the instructions properly and uploaded the file correctly).
3.Click on the Activate link to turn the Plugin on.
Continue making any modifications necessary from the "readme" file instructions to make the plugin's actions meet your needs.
So,our list starts below.
1. AddToAny: Share/Bookmark/Email Button
Help readers share, save, bookmark, and email your posts and pages using any service, such as Facebook, Twitter, Digg, Delicious, and over 100 more social bookmarking and sharing sites. The button comes with AddToAny's customizable Smart Menu, which places the services visitors use at the top of the menu, based on each visitor's browsing and usage history.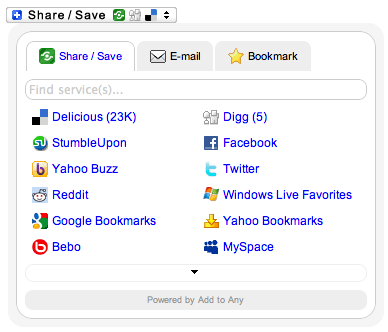 Download: AddToAny
Plugin Homepage: AddToAny
2. Addmarx – Bookmark/Share/Email Dropdown
The Addmarx Bookmark, Share, Email, Link Dropdown was developed as a customizable, integrated method of distributing your content to various social bookmarking platforms. The plugin provides four basic functions:
Bookmark content using different services including a web browser
Email content to friends/colleagues
Share content via social websites
Link to a page/posting with pre-populated HTML code
Addmarx comes with default settings, with the option of customizing for the look/feel of your WordPress installation. You can choose to place Addmarx on your front page, at the bottom of posts, and/or at the bottom of pages.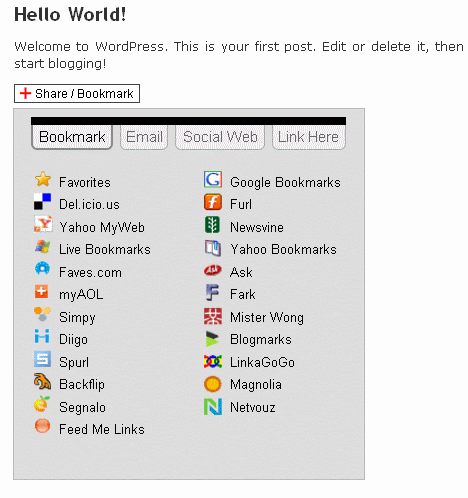 Download: Addmarx
Plugin Homepage: Addmarx
3. Share now!
Let your readers easily share articles without ever leaving your blog. Readers can share posts to multiple destinations:
delicious;
Evernote;
facebook;
friendfeed;
identica;
jaiku;
plaxo;
plurk;
tumblr;
twitter;
others …
Features:
no external windows or popups (once users are signed in), so your users will never leave your blog;
the post link will be automatically added to shared items, so users don't have to write it themselves;
any selected text on the page will be used by the widget instead of the page's title.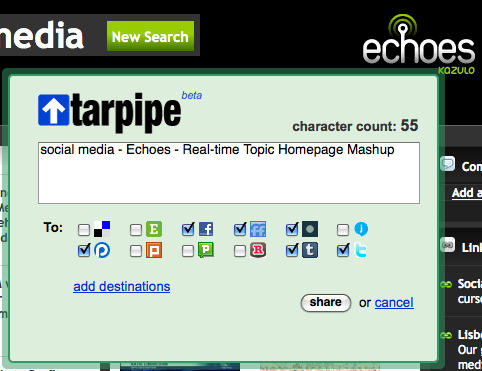 Download: Share now!
Plugin Homepage: Share now!
4. Tell A Friend: Share/Bookmark/Email/Social Bookmarking Button
Adds a tell a friend, Share/Bookmark/Email/Social Bookmarking button in a widget position. The service which is used is freetellafriend.com which supports e-mail address book, social bookmarks and favorites.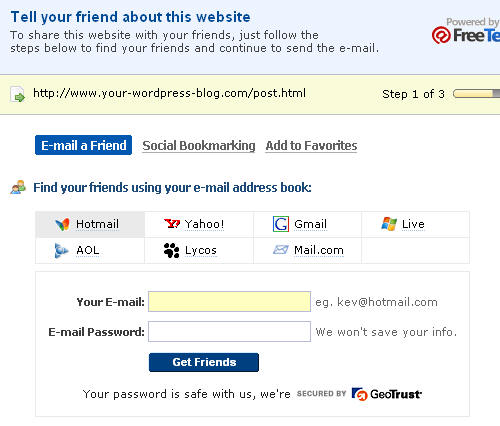 Download: Tell A Friend
Plugin Homepage: Tell A Friend
5. Drag To Share
"Drag to share" is the newest trend in social sharing. Just drag an image and drop it into any social website to share the whole page in real time. This plugin is basically a similar effect release by Meebo.com and used by big players like Mashable.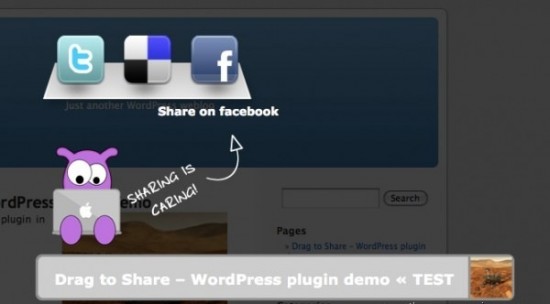 Download: Drag To Share
Plugin Homepage: Drag To Share
6. ShareThis
The ShareThis WordPress plugin provides a simple way for users to add your post to many social bookmarking sites, or to send a link to your post via email, AIM, Facebook, Twitter and more.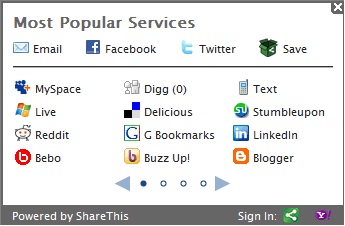 Download: ShareThis
Plugin Homepage: ShareThis
7. Social Dropdown

This plugin displays several social bookmarking options in a dropdown. Unlike other social bookmarking displays, this does not cause clutter.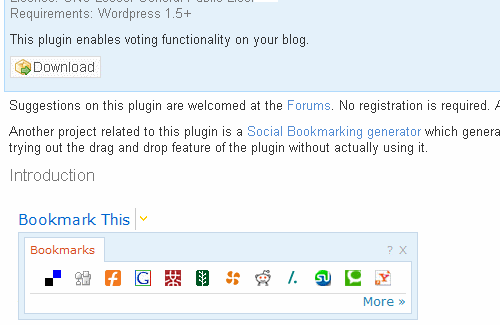 Download: Social Dropdown
Plugin Homepage: Social Dropdown
8. Sociable
Automatically add links to your favorite social bookmarking sites on your posts, pages and in your RSS feed. You can choose from 99 different social bookmarking sites! WordPress 2.6 or above is required, if you use an older version, please download this version, please keep in mind that version is not maintained.

Download: Sociable
Plugin Homepage: Sociable
9. Bookmarkify

The Social Media Marketing Plugin that lets you put social bookmarking links in your posts and other pages. Help your readers promote your blog!
Bookmarkify supports the following features:
Includes over 50 social bookmark sites including an "Email This" link.
Includes a Link for saving to the Browser Favorites.
Includes an HTML Copy option that makes creating links to your site easy for other publishers.
Includes a links for subscribing to your direct or FeedBurner RSS Feed
Includes a link for subscribing to your blog via the FeedBurner Email service (requires a FeedBurner account).
Customize it to include only the sites you want. Users can access the rest via the "More>>" button.
Customize it to match your site design using standard CSS.
The Widget – including your selected site links – is distributed with your RSS feed when using a full content feed.
The "More Box" – a screen that gives the user access to all of the bookmark and sharing options – can drop down in place or popover over the subdued current page.
Use it in the sidebar with a small template change.
Valid XHTML 1.0 or Valid HTML 4.01 markup.
WordPress NOT REQUIRED! Works as a WordPress plugin and as a
stand-alone include script for any PHP page.
No Fee Charged. No Account Required. No Strings Attached.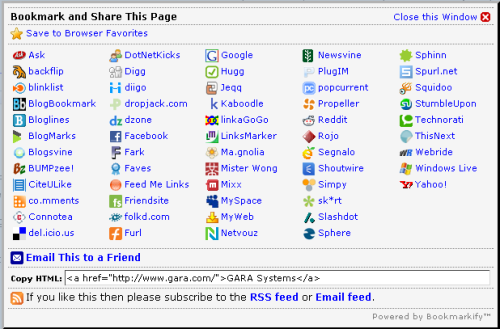 Download: Bookmarkify
Plugin Homepage: Bookmarkify
10. Sociallist
SocialList.org spreads your content across the Internet by making it easier for your website visitors to share it with other people. Social bookmarking sites are a popular way to store, classify, share and search links. In a social bookmarking system, users store lists of Internet resources, which they find useful. These lists are both accessible to the public or a specific network, and other people with similar interests can view the links by category, tags, or even randomly. Our simple yet powerful widget and plugins are very easy to install. SocialList Bookmarking Widget is the best tool to help your website visitors create a buzz for your site and increase its ranking and popularity.

Download: Sociallist
Plugin Homepage: Sociallist
11. KnxDT Bookmarks
This plugin adds a friendly bar at the bottom of your blog posts. All you social bookmarking services are there: Meneame, Digg, Delicious, Fresqui, Technorati, Yahoo, Google, Facebook, Enchilame, Bitacoras, Wikio, FriendFeed, Twitter and also you can email the post using a Feedburner online service.
Compatible with all WordPress versions (since 2.3 to 2.9.1). Don't forget to check the config panel.

Download: KnxDT Bookmarks
Plugin Homepage: KnxDT Bookmarks
12. Bookcerbos
Comparte tus ideas con Bookcerbos. Bookcerbos es un plugin de WordPress para enviar tus post y páginas a los Servicios Sociales más populares como Facebook, Digg, Delicious, Twitter y más.
Share your ideas with Bookcerbos. Bookcerbos is a WordPress plugin for send your post and pages to Social Services most popular like Facebook, Digg, Delicious, Twitter and more.

Download: Bookcerbos
Plugin Homepage: Bookcerbos
13. SexyBookmarks
Though the name may be a little "edgy" for some, SexyBookmarks has proven time and time again to be an extremely useful and successful tool in getting your readers to actually submit your articles to numerous social bookmarking sites.
Our sole aim was to stray away from the "in the box" thinking behind most social bookmarking plugins, and add a little flair that would entice your readers, rather than deterring them with microscopic icons that get lost in pages heavy laden with content.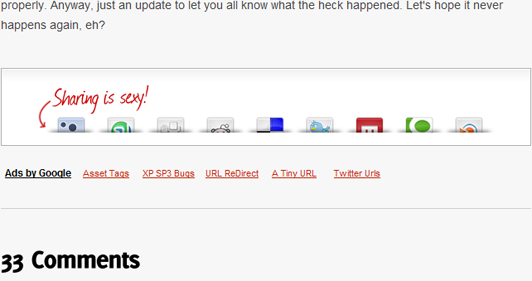 Download: SexyBookmarks
Plugin Homepage: SexyBookmarks
14. OnlyWire for WordPress
OnlyWire syndicates your content and articles to the web's top social networking sites with a single button click. Used by thousands of bloggers and publishers, OnlyWire simplifies the process of submitting your content to over 30 social networking sites at once — including Digg, Reddit, StumbleUpon, Twitter and many others.
When you download and activate the OnlyWire WordPress Plugin, a "Bookmark & Share" button will instantly appear underneath each of your blog posts. When you mouse-over the button, it will expand to provide you and your readers an easy way to share your post with dozens of social networks.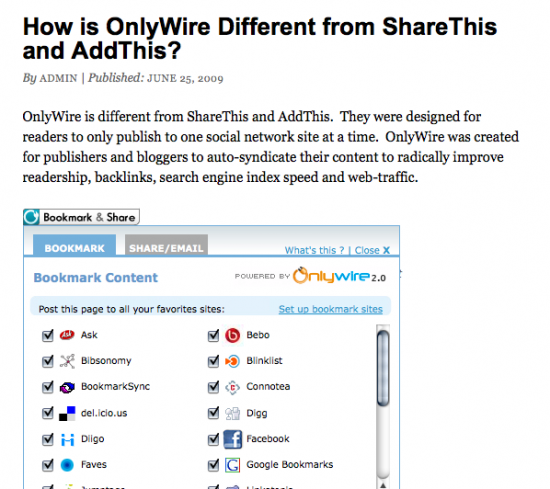 Download: OnlyWire for WordPress
Plugin Homepage: OnlyWire for WordPress
15. Instant Highlighter: virally MicroShare/MicroBookmark your posting across ALL Social Networks
Makes sharing very effective since readers can immediately focus on the highlights while keeping the context and content intact.
Share using: E-Mail, Blogs, IM, Social Networks, Social Bookmarks, Forums, Comments. or any medium!
Puts a Micro-wrapper around the functionality of AddThis, ShareThis, AddToAny etc. so that readers can easily draw attention to what they want to share on your page without having to go through the tedium of copying parts of a page, and pasting them into email with a link.
Automatically does it – all – for the user by simply using a highlighter pen that is familiar to everyone regardless of age, sex, race, religion, or geography!
Post to Facebook, Twitter, MySpace, delicious, digg, hi5, Technorati, Google, Yahoo, Bebo, BlackPlanet… over a 100+ such websites.

Download: MicroShare/MicroBookmark
Plugin Homepage: MicroShare/MicroBookmark

16. Light Social
This is a super lightweight plugin to insert a set of social share links at the bottom of each post, focused on technical blogs.
With this plugin you don't have options to configure. Simply activate or deactivate to show or not the bookmark social links.

Download: Light Social
Plugin Homepage: Light Social
17. Fixed Social Buttons
Let your visitors make your site popular by sharing your pages thanks to fixed social buttons. This plugin will add colorfull and attractiv social buttons on right side : twitter, facebook, myspace, reddit, delicious, technorati, digg, linkedin, flickr and rss feed buttons.
Download: Fixed Social Buttons
Plugin Homepage: Fixed Social Buttons
———————————————————————————————–
You can check out our best quality ccie dumps prepare you well for the real scjp exam. You can also get easy success in real exam with the quality comptia server+ questions and answers.
32 Responses to "17 wordpress sharing plugins that will increase your blog traffic"